#SETSEGStaff – Molly Mellema
At SET SEG, we put schools first every single day. We educate, empower, and serve Michigan public schools by offering benefits and services that keep schools safe and charitable contributions that support students within the state.
As the Chief Sales and Marketing Officer and Foundation Executive Director, Molly Mellema embraces the mission to put schools first through relationship development, brand awareness, and ensuring that schools' unique insurance needs are met through our programs and initiatives. Mellema also serves as the Executive Director of the SET SEG Foundation, which operates with the mission to enable students to advance learning, leadership, and civic responsibility by providing financial support directly to public schools and students.
Giving Back to Schools
Leading the Foundation is a newer role for Mellema that allows her passion for schools and students to shine. SET SEG provides numerous services to districts at an administrative level, and the Foundation allows the organization to take on a different role, directly serving students and programs with financial awards and scholarships.
Mellema strives to be a positive influence for SET SEG staff, helping them grow and serve Michigan public schools. She extends that influence to the Foundation, both with increased employee involvement and student success. Through Mellema's leadership, the Foundation instills the core values of the organization, supporting our public schools and making a significant impact on the future of every student.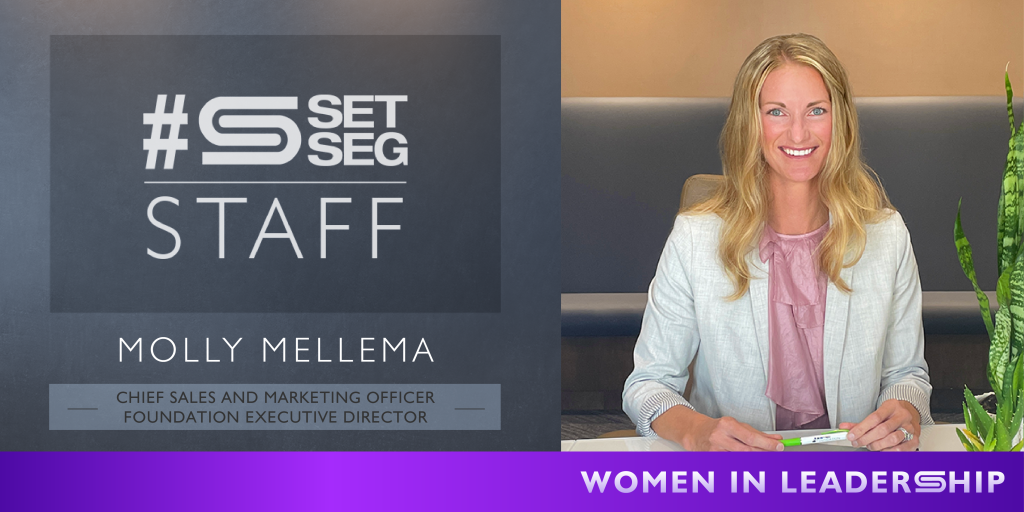 Q&A: Molly Mellema
Q: How do you feel you make an impact through SET SEG?
A: Everything the Foundation does allows me to feel like I'm making a difference and impacting students' lives. Through the Foundation, we strive to support school districts throughout Michigan with the MASB Education Excellence Awards. It's a great example of how we work to impact K-12 students' futures by providing opportunities for innovative programs and empowering them to become strong leaders. Additionally, the Foundation provides scholarship opportunities for leadership camps, career technical programs, and those going into the trades.
Q: What motivated you to become a leader at SET SEG?
A: Throughout my career I've found myself in various leadership roles. Most recently, however, I actively sought out a leadership role with the Foundation because I truly believe that there are so many opportunities to make a difference for students, and that is my motivation. My goal is to expand our fundraising so that we can make a bigger impact for even more students, particularly at the middle school level, as they are often underserved.
Q: What is your leadership style?
A: I grew up around coaches, so my leadership style tends to mirror that of a coach. You need to know what motivates each individual in order to get the most out of them. I also believe you need to empower people, so they feel like they have authority and decision-making abilities. For me, this means giving people the room to grow and learn to create ideas and solutions on their own by asking questions instead of trying to jump in with solutions.
Q: What does working at SET SEG mean to you?
A: To me, working at SET SEG means supporting Michigan public schools. That is my passion. When you look at my career, it has always revolved around schools in some way, shape, or form. Our organization invests in the future of schools. When you look at our Property/Casualty Pool, we are protecting buildings and property. Our Worker's Compensation Fund protects educators and keeps them in front of students. And on the Employee Benefits side, we have the opportunity to work with employees on their health and wellness so they can continue to make an impact on students, the future leaders of our state, country, and beyond. Being involved in a company that does so much for public schools in Michigan is incredibly rewarding.