#SETSEGStaff – Lynn Revoldt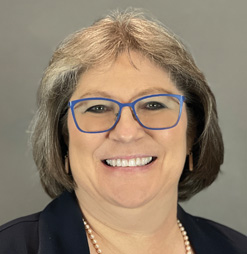 SET SEG is happy to announce the arrival of Lynn Revoldt, Director of Employee Benefits Client Services. With an extensive employee benefits background, Revoldt brings a wealth of knowledge and experience to SET SEG, and we are excited to add her industry expertise to our organization.
Revoldt has more than 30 years of experience serving in various employee benefits roles, ranging from claims analyst and benefits administrator to operations manager and director of operations. Prior to joining SET SEG, Revoldt provided employee benefits solutions in a variety of organizations, and she is excited to apply her experience and expertise to helping Michigan's public schools.
Now, as SET SEG's Director of Employee Benefits Client Services, Revoldt directs the overall design, implementation, strategy, and administration of SET SEG's employee benefit services programs. This position ensures that SET SEG services and plans adhere to current regulations and supports the organization's strategic initiatives through collaboration with SET SEG leadership and other departments.
Women In Leadership
At SET SEG fostering growth in leadership is key to ensuring the organization's values are upheld at every level of service. With a diverse set of leadership styles heading our organization, we're excited to welcome Revoldt to our team of strong women leaders advocating for our members – Michigan's public schools.
Q&A: Lynn Revoldt
Q: What advice would you give to women entering this industry?
A: Have faith and grace in yourself and others. It is up to you to recognize your own worth, share your knowledge, and support yourself and those around you.  Hard work is important but so is the intelligence with which you perform the service – and never forget to have grace.  There is nothing as satisfying as helping someone grow and making a long-term difference.
Q: Describe your leadership style and how you lead others.
A: I have always believed that Leadership is more than a position or a title – it is a skill and a mindset that must be constantly developed through an unending process of self-study, education, and experience. A positive attitude is such an important part of the overall equation and integrity is key.
As a leader, I will offer direction through mentorship, collaboration, and continual support to our team. The existence of unified goals will assist us in our efforts to work enthusiastically towards objectives and provide a consistent and coherent process to help achieve our organizational goals.
Q: What are you looking forward to most in your role at SET SEG?
A: I look forward to being part of an organization that can really make a difference – an organization that puts supporting Michigan Public Schools first on every agenda.
This team operates to serve others by simplifying the complex and must keep up with, and stay on top of, a constantly changing environment. To have this opportunity to be part of the Employee Benefits Team that strives to concentrate on these important issues each and every day is truly exhilarating and I am looking forward to each new challenge as a member of the team.