#SETSEGStaff – Amy Guilford
At SET SEG we create leaders – leaders in the insurance industry and leaders within our own organization. With an executive team focused on creating an environment that empowers employees to learn and grow, we're able to serve Michigan's public schools that much better.
Our ability to provide so many valuable services to schools throughout the state is due, in no small part, to the fiercely talented individuals that make up this organization – and that includes SET SEG's Chief Program Administrator, Amy Guilford.
Guilford oversees SET SEG's property/casualty, workers' compensation, and employee benefits programs, ensuring every level of our organization successfully functions to meet our operational, financial, and service benchmarks. Since her promotion to this role in 2016, Guilford has contributed to many of SET SEG's successful movements in the school insurance space.
Failure Equates Growth
Guilford attributes much of her success to SET SEG's institutional focus on empowerment. With help from her mentors and predecessors, Guilford thrived in an environment that allowed growth and embraced learning through the experience of failure.
"If you work for an organization and leadership team that understands failure equates to growth, and you're not punished or in fear of failing, it can be really empowering," said Guilford. "I strive to foster that same culture and really grow the next generation of leaders."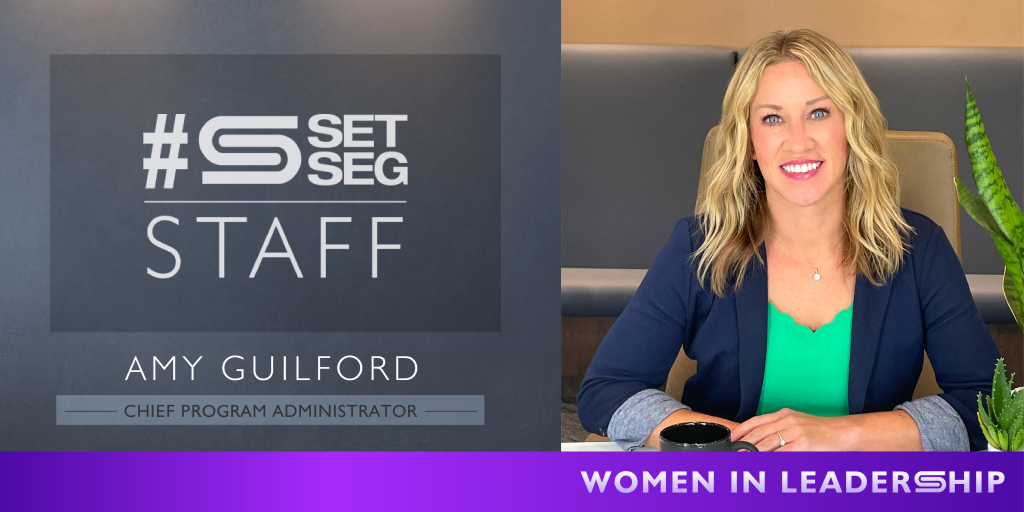 Q&A: Amy Guilford
Q: What do you most enjoy about your work?
A: I really enjoy the people I work with. We have an incredible team of people who are mission-driven, collaborative, and hard-working. Beyond that, I love working for an organization with its whole purpose to protect and support Michigan public schools.
Q: What makes SET SEG unique?
A: When you work for an insurance company, success is often defined by profit and financial benchmarks. But in our case, we don't win if our schools don't win. We aren't capturing surplus in the form of shareholder equity. We're returning it back to Michigan public schools.
I see SET SEG as a beautiful little gem inside the world of insurance, that not many people know about. It's a niche area where we can do creative and innovative things for the sole purpose of protecting and servicing our members' specific needs. That's very different than your typical commercial insurance entity.
Q: What does it mean to you to work at SET SEG?
A: At the end of the day, it allows me to feel like I made a difference.
Both of my children have gone through the public school system, and I can certainly empathize and understand what school administrators and employees have on their plates. It feels good for me to know that everything we're doing is to allow them to focus on what they do best.
Q: How have you made an impact at SET SEG?
A: I have worked for seasoned professionals early on in my career. I grew tremendously with that mentorship and now am in a position where I can help guide the younger generation. I get to pass along the technical knowledge I learned and foster new leadership and growth in others.
Q: What is your leadership style?
A: Highly collaborative. I tend to want more people in the conversation than less. I also really challenge my team to work together to bring me a recommendation. I trust them and want to empower them to use their skills and experience to find solutions we can all then review and discuss.
Empathy is also incredibly important and is two-fold. As a working mom, I empathize with other working parents, and I also understand many of the challenges facing public schools. Understanding the needs of my team as well as the needs of our members helps me to be a better leader.