Recognizing Exemplary Acts of Service

SET SEG is proud to recognize exemplary acts of service within our member districts. Two special recognitions were recently presented: the Gus Kihlstrand Service Award and the grand prize Michigan Safety Awareness and Facilities Excellence (MSAFE) Award.
Gus Kihlstrand Service Award
The Gus Kihlstrand Service Award was created in 2019 and named after a valued, long-tenured member of the SET SEG organization, and honors the legacy of public-school personnel who exemplify exceptional hard work and commitment to their district and community.
This year's recipient is Billy Bregg, the retired Supervisor of Maintenance with over 24 years of service to the Allegan Area Educational Service Agency (AAESA).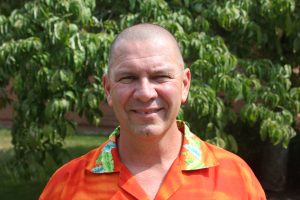 Bregg began his tenure at AAESA as a Maintenance Technician, ultimately transitioning into the supervisory role, which he held for 12 years until retirement. Throughout his time as Supervisor of Maintenance, Bregg oversaw numerous building additions and renovations, directly contributing to the success AAESA experiences today.
Over the years, Bregg had a number of accomplishments that not only made him more effective in his career but also established him as a community leader. He graduated from the Michigan School Business Officials (MSBO) Leadership Institute, obtained a facilities director certification, and also served on the AAESA wellness committee.
Bregg's uplifting personality (and trademark Hawaiian shirt) is recognized throughout AAESA as a positive force for everyone around him. "His smile is contagious and no matter what the situation, Billy is positive and always has a way to make things better," says Abby Lloyd, Assistant Superintendent of Finance and Operations. "If you hear someone whistling while walking down the hallway, you know it's Billy."
SET SEG is honored to award Bregg with this year's Gus Kihlstrand Service Award and share appreciation for his dedication to upholding a safe environment at AAESA.
MSAFE Award
The SET SEG Michigan Safety Awareness and Facilities Excellence (MSAFE) Awards are presented to honorary districts across the state of Michigan that are members of the SET SEG Property/Casualty Pool and Workers' Compensation Fund as a special way to recognize and reward their proactive efforts to protect their school community. This year's overall grand prize MSAFE Award is presented to one of the four regional MSAFE Award winners to provide additional recognition for their exemplary attention to safety.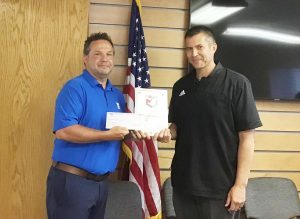 Lake City Area Schools is the first-ever grand prize winner of the SET SEG MSAFE Award! The district was recognized for its outstanding claims record and work to protect and preserve the safety and security of its buildings and grounds. SET SEG Loss Control Representative Jamison Hagerty credits the staff with keeping a well-maintained campus and reducing risk factors that may cause an injury or accident.
"The district is highly responsive to requests and prepared to make recommended changes to keep their district safe," said Hagerty. "They prioritize the safety of their staff and students by regularly utilizing employee training courses and following standards for best practices."
Hagerty attested that Lake City Area Schools' commitment to the upkeep of their school grounds, prompt reporting, claims resolutions, and training participation makes them a model district. Given their attention to detail and high standards for safety, Lake City Area Schools has met the numerous criteria required to receive the grand prize MSAFE Award.
"I look forward to working with Tim, Tracy, Joe, and the entire staff in continuing the great success they have had in putting safety first." – Jamison Hagerty