When a Gym Floor Looks Like an Ocean Wave

When water encounters a gym floor and isn't immediately removed and inspected, disaster looms. If not caught immediately and dried, water can severely damage a gym floor almost immediately.
In our over 35 years of experience, our Property/Casualty claims team has witnessed gym floors so buckled and bent, the district had no choice but to shut the gym down and replace the whole floor – leading to months of contract and claims negotiations, athletic and sports event repercussions, and unique classroom coordination challenges.
When Disaster Strikes, Who Do You Call?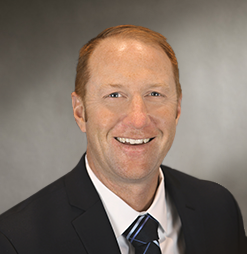 Chad Zeismer, SET SEG's Property Claims Consultant, has seen it all, walking school district administrators through some of the worst property claims seen in the state.
Q: As the SET SEG Property Claims Consultant, what is your role when a district calls with a potential problem?
A: First and foremost, I work with the Loss Control team to determine what potential claims are likely and what can be done to prevent them. If there is a reported loss, I will first identify what caused it and if it's considered a covered loss. I work with the vendors and contractors to negotiate costs, ensuring no one is taking advantage of the district or the claim. Even if the loss isn't covered, we still work closely with the district to ensure they're receiving fair pricing to repair any damages.
Q: Why are gym floors such a problem?
A: Gym floors are one of the most expensive items in a school and often the main focus for a community. Because they're susceptible to any water intrusion, if any amount of water is found on a gym floor, then cleaned up and forgotten about, real problems can start to emerge as short as a few days later. If water has been left on a gym floor, it may be too far gone to salvage. It's important for school employees to take any amount of water on the gym floor seriously.
These types of claims often happen over the holiday break, causing a district to lose the second half of their basketball season, wrestling meets, and cheer competitions – disrupting all kinds of athletic programs. To prevent this, call your flooring contractor, mitigation contractor, and SET SEG if you notice water on the gym floor. We will make sure the contractors work together to save the floor from damage.
Q: Why call SET SEG?
A: We're here to help. As a member of the Property/Casualty Pool, you're not alone. We are dedicated to providing members with the tools and resources to prevent claims before they occur. However, when disaster strikes, we provide the support and claims assistance to help districts navigate a difficult time.
Ionia Public School District: A Disaster Avoided
Even when administrators and facilities staff are doing their due diligence to ensure school district buildings and property are safe and functioning at an optimal level, incidents can still occur.
In April 2022, the facilities team at Ionia Public School District discovered water on the gym floor due to a leak in the roof. Immediately, Facilities and Grounds Director Mike Avery, along with Assistant Principal/Athletic Director Andy Barr, took action, calling in mitigation contractors, a flooring contractor, and the school's SET SEG Loss Control Representative. While the roof leak was addressed, the gym floor was evaluated, dried, and sections of flooring replaced.
"SET SEG really kept things moving," Avery stated. "So much so that we never missed a day of class in that gym – there was no disruption to the school's business despite having to fix the floor."
As a long-time member of the Property/Casualty Pool, Ionia Public School District's facilities crew has developed a partnership with the SET SEG Loss Control Team in an effort to improve safety and security measures throughout the district and manage any potential issues.
"I've been in this role for 20 years and SET SEG has stepped up to the plate anytime we've needed assistance when it comes to our facilities," said Avery. "What's amazing is how fast they reach out to us after we file a claim. The response time, along with the expertise and suggestions we receive through routine safety walkthroughs is invaluable."