Leadership Camp Scholarships
The Michigan Association of Student Councils and Honor Societies (MASC/MAHS) Summer Leadership Camp provides an opportunity for students to experience lessons in leadership, communications, group activities, and goal setting. Through this competitive process, students in grades nine through 12 receive scholarships to attend camp.
Every year, SET SEG receives hundreds of applications from all throughout Michigan and awards $26,000 in full scholarships.
Eligibility Requirements
Must be a Michigan resident.
Must be a high school student attending a Michigan public school.
2022 Summer Leadership Camp Scholarship Winners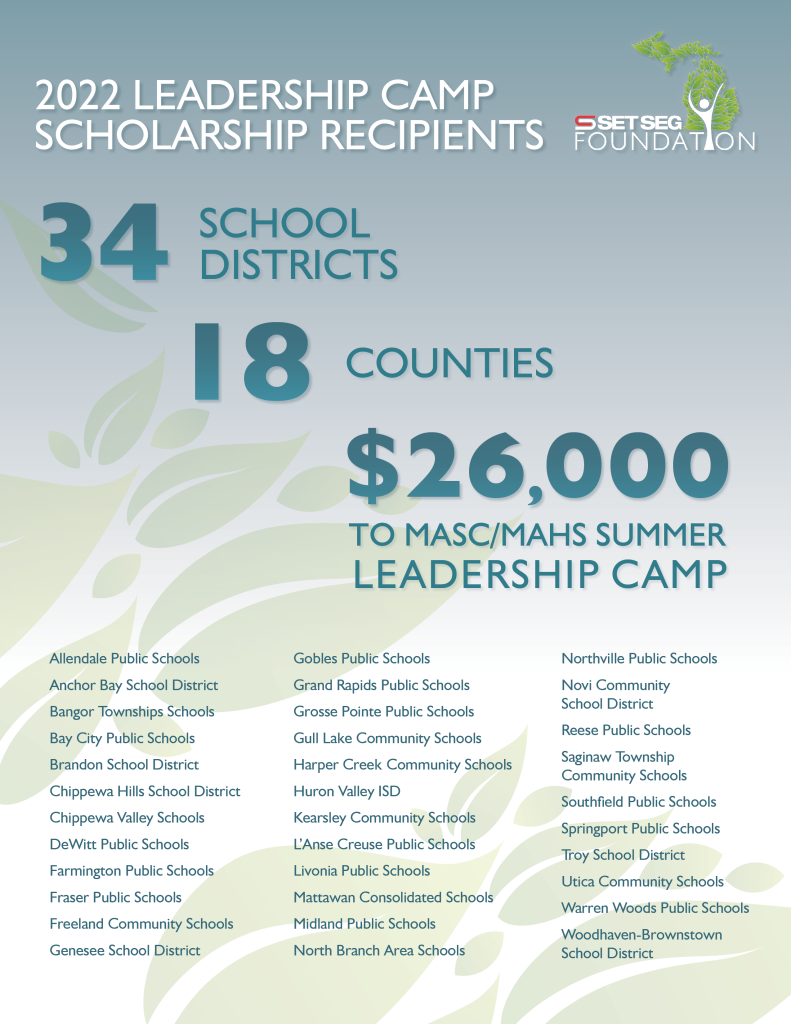 Taylor B., Gull Lake Community Schools
Aubrey G., Bay City Public Schools
Olivia L., Bangor Township Schools
Alli C., Bangor Township Schools
Kaden N., Harper Creek Community Schools
Kayla W., DeWitt Public Schools
Layla E., Genesee School District
Alyvia B., Kearsley Community Schools
Georgia K., Genesee School District
Hope O., Springport Public Schools
Mackenzie B., Grand Rapids Public Schools
Olivia K., North Branch Area Schools
Josie M., Brandon School District
Jacqueline S., Brandon School District
Ava C., Utica Community Schools
Abygale K., L'Anse Creuse Public Schools
Addison D., Fraser Public Schools
Frankie P., Fraser Public Schools
Karen M., Chippewa Valley Schools
Olivia S., Warren Woods Public Schools
Raiha K., Utica Community Schools
Manmeet V., Utica Community Schools
Graci F., Chippewa Hills School District
Ila S., Chippewa Hills School District
Timothy B., Midland Public Schools
Zora N., Southfield Public Schools
Mahi G., Livonia Public Schools
Simranjot K., Farmington Public Schools
Evelyn D., Farmington Public Schools
Alex M., Huron Valley Schools
Makayla S., Novi Community Schools
Sanjana L., Novi Community Schools
Hope F., Southfield Public Schools
Cynthia W., Troy School District
Adam M., Troy School District
Deeksha H., Troy School District
Lily W., Freeland Community Schools
Kevin Z., Saginaw Township Community Schools
Marissa G., Saginaw Township Community Schools
Madison B., Anchor Bay School District
Courtney K., Reese Public Schools
Elena P., Gobles Public Schools
Olivia C., Mattawan Consolidated Schools
Suman K., Woodhaven-Brownstown School District
Ruta H., Grosse Pointe Schools
Kaitlyn F., Livonia Public Schools
Lauren K., Livonia Public Schools
Ritvik E., Northville Public Schools
Sanya S., Northville Public Schools
Felicia W., Northville Public Schools
Simran K., Woodhaven-Brownstown School District
Tara N., Livonia Public Schools
Liam R., Allendale Public Schools
Trevor T., DeWitt Public Schools
Ayushi G., Troy School District
Kaosarat M., L'Anse Creuse Public Schools