2021 SET SEG Holiday Card Contest Winner

Congratulations to Alina Nelson, an eighth grader from Negaunee Public Schools, for winning the grand prize in our 2021 holiday card contest! This year we had hundreds of entries to choose from and were impressed by the creativity and talent demonstrated by student artists throughout the state. Alina's art will appear on the cover of our holiday card, sent to more than 800 member districts, vendors and partners.
Thank you to all the students and teachers who participated in our contest! All of us at SET SEG wish you a happy holiday season!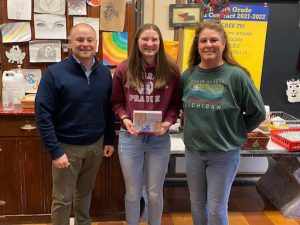 Pictured from left to right: SET SEG Account Executive Dan Reattoir, Alina Nelson, Pam Jacobson