#SETSEGSTAFF – RUBIN TORREZ
SET SEG is thrilled to announce the arrival of Rubin Torrez, Chief Employee Benefits Program Administrator. With an extensive employee benefits background, Torrez brings a wealth of knowledge and experience to SET SEG, and we are excited to add his industry expertise to our organization.
Torrez has more than 25 years of experience serving in various employee benefits roles, ranging from analytics, underwriting, sales, and marketing, to practice lead for a multinational brokerage firm. Prior to joining SET SEG, Torrez provided employee benefits solutions to a variety of industries, and he is excited to apply his experience and expertise to helping Michigan's public schools.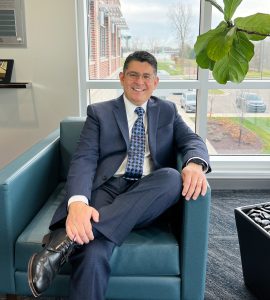 PUTTING SCHOOLS FIRST
At the core of SET SEG's mission is the pillar of putting schools first. "I believe that schools are generally underserved, and when we put schools first, we are putting students first. Everything we do and everything schools do is for students, and employee benefits have a unique impact on this," says Torrez. "I love that about SET SEG, because we can help schools enhance benefits without asking anyone to contribute more out of their paychecks. We can provide the education to empower districts to make the best choices so they can continue to provide excellent teachers for students."
"Great benefits help attract great employees. Everyone wants to save money, but we cannot do so at the detriment of those under our care. We are investing in the future when we invest in quality employee benefits," said Torrez.
Torrez is excited about the opportunities at SET SEG and looks forward to doing things differently than other insurance providers. Staying true to the mission and putting schools first is at the center of how Torrez plans to approach employee benefits for our public school partners. Being transparent and sharing meaningful insight are key to acting in schools' best interest and helping them make informed benefits choices. Every decision at a district impacts employees, students, and families, and Torrez believes that education and empowerment are the key to success and providing superior service to members.
Q&A: Rubin Torrez
Q: What do you think schools should know about employee benefits?
A: Quality does not have to cost more. Many of our contemporaries place revenue above what is in the best interest of the schools. Insurance doesn't have to cost more to be done effectively. There are so many ways to take something that many view as a variable expense and make it a controllable asset that provides rich rewards to those who use it.
Q: How would you define your leadership style?
A: I am a servant leader. I love to help other people. My responsibility is to help others succeed and empower them to continue to grow and do their job the best they can.
If I can remove some of the friction they may face, it makes it easier for them to fulfill their responsibilities. But none of this is possible if I do not understand their role, so part of it is also learning and recognizing their individual contributions.
Q: What makes you excited about SET SEG?
A: I am eager to be able to focus on one industry. I have years of experience working with a variety of industries, including schools, but to be able to learn and concentrate on just Michigan public schools is exciting to me. It is an opportunity to utilize my background and experience as a means to give back to those educating my family and my community.