#SETSEGStaff – Karen Sloan
SET SEG nurtures a culture of engagement. Employees' voices are heard, and work exists on a collaborative plain. At the center of the push for such an impactful culture is SET SEG's Chief Human Resources Officer Karen Sloan.
As the executive leader of human resources at SET SEG, Sloan's responsibilities cover the people and processes that support the organization's employees, but her main focus is making sure employees, managers, and executive team members feel valued and heard. The success of our organization is largely dependent on the growth and development of our knowledgeable professionals. Sloan's efforts to build an atmosphere of collaboration and engagement pave the path necessary to develop some of the most knowledgeable professionals in the industry.
Impact Through Collaboration
Sloan values the impact her role has on SET SEG and the education community at large. "For me, working at SET SEG means supporting Michigan public schools and the whole public school concept," explains Sloan. "I grew up going to public schools, my children went to public schools, and my daughter is a first grade teacher at a public school – public schools are important to society."
With this purpose, Sloan enables SET SEG to hire, train, and retain employees that are committed to helping our members. With a focus on collaboration, Sloan has purposefully incorporated a common language across departments, allowing for fluid communication. This focus on communication and collaboration allows employees to assist and empower each other, all while maximizing a positive impact on SET SEG's member districts.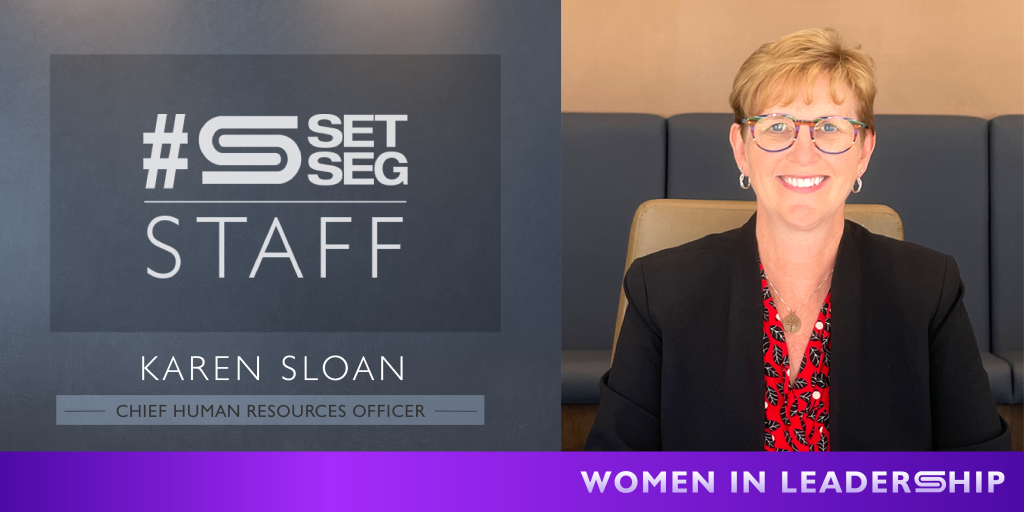 Q&A: Karen Sloan
Q: What advice would you give to women entering this industry?
A: Know yourself and go after what you want. If you see a job that is very much of interest and you maybe meet half of the job requirements listed in the description, apply for it. Research shows that, in general, women don't seek opportunities with requirements they feel they don't fulfill, while men are more likely to take a chance.
Figure out what you want, build yourself a path, and reach for it, even if you don't think you check all the boxes quite yet.
Q: Describe your leadership style and how you lead others
A: If I had to put a specific label on it, my style could be called "democratic coach." The "democratic" part of it is gathering as much feedback as possible from everyone around me and making strategic decisions based on that information. The "coach" part is making sure everyone who reports to me is ready and able to take on the next level when it is their time. It's all about coaching people through their journey as they grow and take on new things.
Q: What do you like about your job?
A: There are a lot of things I like, but I'm really happy about the impact my job has on Michigan public schools. It's not a direct impact, but I help bring in the right people so that they can help each district we work with throughout the state.